My little compnay, Sounds Like A New Tranny Desings, makes stencil tee shirts and the newest one is Modest Mouse:





Front Close-Up:



Back: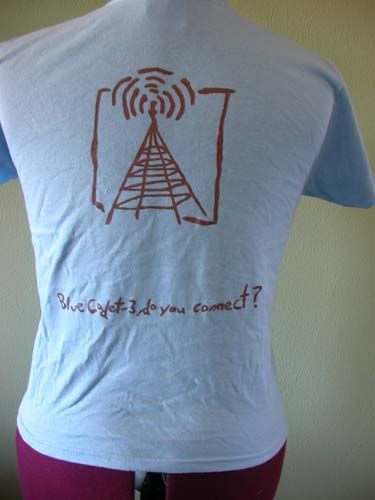 Back Detail 1:



Back Detail 2:




It reads: "Blue Cadet-3, do you connect?"
The art is from the K Records 45 of the same name that I picked up a few years back. I think it's some pretty cool stuff.

Now, I've got them, so how do you get them?
1. Post a comment here with your email address and I will email you.
2. Email me directly at soundslikeanewtranny@yahoo.com
3. IM me a tenseyrslfskinny.

They are $12, and $2 shipping, so total $14. I take money orders, checks, and concealed cash (at your own risk!).

You can see all the paint colors, tee colors, tee sizes, and a tee size chart here!

Feel free to add me, and if you would like to be added to a mailing list to get updates of the newest tees, email me or leave a comment here saying you would be with your email address.

I take suggestions, so let me know if you have any!

Also!
Check out my other tee designs here!